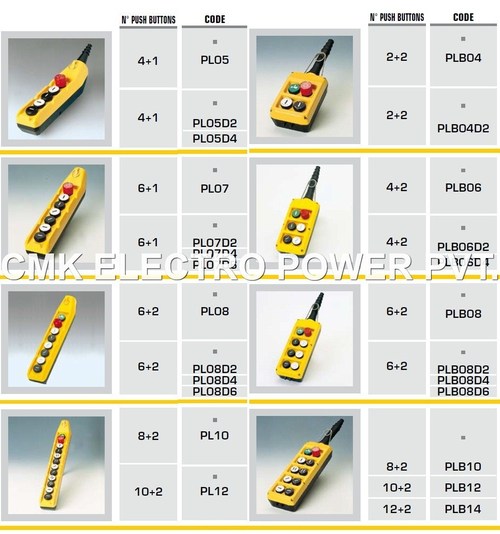 Two speed Pendant Station
Product Description
Two speed Pendant Station

CMK Electro Power Pvt Ltd. Push Button Pendant Station are available to fit a wide variety of applications from the simplest one motion hoist to three-motion cranes with multiple switches and accessories.These Crane Push button switches are best quality,CE certified Products.

Features:

Compact safety yellow enclosure
Two-piece enclosure simplified field wiring
Easy to read legend plates
Neoprene Booted buttons
NEMA 4x Enclosure rating
Degree of protection IP65.
-15°C to 70°C (5°F to 160°F) operation temperature
UL Listed
Contacts rated 5A at 120 VAC
100 G shock resistance
Indoor or outdoor use.
Pendant Station Details:Description:
2-push button pendant-all single speed
2-push button pendant-all dual speed
4-push button pendant-all single speed
4-push button pendant-all dual speed
4-push button pendant-2 single speed w/Momentary on/off
4-push button pendant-2 single speed w/Maintained on/off
4-push button pendant-2 dual speed w/Momentary on/of
4-push button pendant-2 dual speed w/Maintained on/off
6-push button pendant-all single speed
6-push button pendant-all dual speed
6-push button pendant-4 single speed /Momentary on/off
6-push button pendant-4 single speed /Maintained on/off
6-push button pendant-4 dual speed /Momentary on/of
6-push button pendant-4 dual speed/Maintained on/off
8-push button pendant-6 single speed /Momentary on/off
8-push button pendant-6 single speed/Maintained on/off
8-push button pendant-6 dual speed /Momentary on/off
8-push button pendant-6 dual speed /Maintained on/off
8-push button pendant-6 three speed /Momentary on/off
8-push button pendant-6 three speed /Maintained on/off
10-push button pendant-8 dual speed /Momentary on/off
10-push button pendant-8 dual speed /Maintained on/off
12-push button pendant-8 dual speed /Maintained on/off
12-push button pendant-8 dual speed /Maintained on/off